A new survey of human resource professionals shows job seekers who have a personal website in addition to a traditional resume can better define and differentiate themselves with recruiters in today's competitive job market. While decision-makers view traditional resumes as the go-to tool to communicate professional experience, 67 percent of those surveyed say a personal website provides more insight into a candidate than a traditional resume alone.
The survey of HR professionals was conducted between June 11 and July 9, 2015 by the market research firm Research Now for Domain.ME, the provider of the .ME domain extension.
Survey findings show that, beyond social media, a personal website is a valuable asset for candidates to define themselves through a digital environment they create and control:
–       68 percent of HR professionals are looking to assess personal qualities that aren't perceptible from a traditional resume
–       Half of survey respondents believe a personal website helps to "humanize" a candidate
–       Nearly one third of the HR professionals surveyed agreed that a personal website can provide a competitive advantage in the job market
–       Four-in-ten recruiters would be more inclined to contact a candidate with the personal website when considering two candidates with seemingly equal qualifications
According to a recent panel at the University of California Berkeley's Beyond Academia conference, U.S. human resource professionals receive an average of 100 applications for every job opening on the market, and as of this spring, the National Center for Educational Statistics reports another 2.8 million college graduates have joined the ranks of job seekers.
"This new research confirms that we are moving beyond the age of 'be careful what you post' and into an era of digital presence and savvy to differentiate yourself in the job market," said Predrag Lesic, CEO of Domain.ME. "The survey shows that, while recruiters continue to scan social posts for red flags, they view digital assets as tools to better understand candidates and to help them make more informed hiring decisions."
"The candidate who offers that content has an advantage in telling their personal story," said Lesic.
The survey results also show that proactively managing the content a recruiter may find online could significantly help a job seeker's odds of landing an interview or a position:
–       61 percent of recruiters in the survey said that online content helps them identify "red flags" with candidates
–       One-in-five recruiters surveyed said they "frequently or always" screen candidates on Facebook, and nearly half check candidates' Facebook at least some of the time
–       The types of online content most likely to hurt or eliminate a candidate from consideration are: risqué photographs (71 percent); negative comments about work (69 percent); negative comments about a current or former employer (66 percent); and inappropriate language or cursing (65 percent)
–       Conversely, content that could be featured on a personal website, including self-authored articles about one's profession or involvement with community activities, are viewed by more than a quarter of recruiters as content that would enhance candidacy
Recruiters surveyed also said "proactive recruiting" is the most influential trend in their recruiting process: more than half of recruiters conduct an active online search in addition to considering online resume submissions. "A personal website could improve a candidate's chances of being discovered," said Lesic.
78 percent of those surveyed reported that digital content like an online website and the increased availability of information online are influential trends in recruitment. 83 percent anticipate that their jobs will be even more reliant on digital content over the next five years.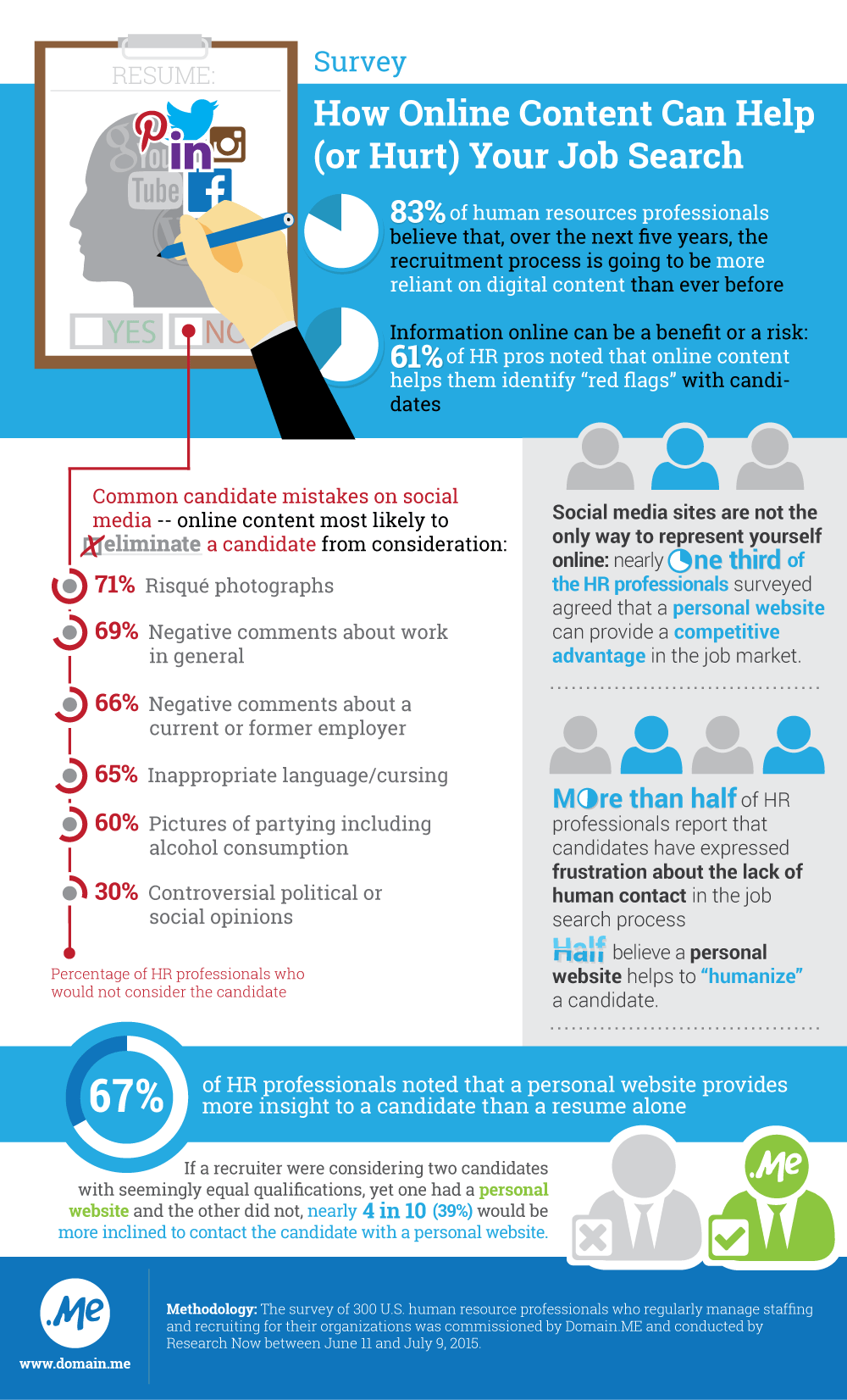 Read more about the research and survey results in our free ebook.