We've all been there. Another boring Monday meeting that seems like a usual waste of time and you've already accepted it as the necessary evil. And just when you think it can't get any worse, your colleague stands up and slowly approaches the end of the conference room. Your eyebrows slightly frown and you squint your eyes in suspicion. You then notice something in his hand. Is that… is that… No, it can't be.
Is that the presentation clicker?
You start screaming internally like Steve Carell from "The Office" serie while keeping your poker face on. Damn it, another thirty minutes of your life you'll never get back.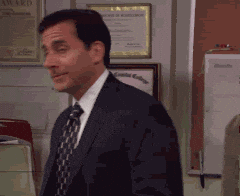 It's not that you're not interested in that quartal report (ok, maybe you're slightly unamused with it), but when you're forced to look at those generic slides that include pictures of fake-smiled people in the office gathered around the computer screen and randomly pointing at stuff, or the working gears (what's up with that, honestly?), or those huge and awkward thumbs-up, and business handshakes – that's a classic… You get frustrated.
Isn't there a better way to deliver a message through a presentation? Must it look so 2001? Is clip-art still really a thing? Depending on how much you care about the aesthetics, this will get more or less on your nerves. Of course, the quality of one presentation relies on much more than just the visuals, but they do play an important role – especially when it comes to engaging your audience.
The Problem of Online Intellectual Property
Have you ever wondered why these presentations are often so poorly designed? There are at least two possible reasons:
The person who creates them is completely clueless about what's appealing to the eye (and maybe even doesn't know how to proportionally resize an image which results in cringe-worthy slides)
The images used may be random ones from Google images or some other search engine; just type a phrase like "business deal" in the search box and you'll recognize a few photos for sure
Now for the plot twist: images you find on Google are not under a creative commons license by default. Just because you can download a certain picture to your PC doesn't make it legal.
(Have you gasped in shock?)
Taking in mind the high dynamics of the happenings online, your photos getting hijacked in the cyberspace is not a question of if but when.
That's right: people steal images from Google everyday, probably without even knowing it's against the law. Just take one glance over Facebook: in addition to open source photos (such as those provided on Wikipedia), you'll see tons of photos that are not an intellectual property of those users nor they contain listed credentials.
According to a whitepaper published in 2014 by IMGembed, 85% of images online get stolen, i.e. get reused unsourced.
If you happen to be on the other side of the lenses and are a quality photographer with solid skills, brace yourself… Taking in mind the high dynamics of the happenings online, your photos getting hijacked in the cyberspace is not a question of if but when.
Here's a real-life example: Sarah Ann Loreth, an amazing fine art and travel photographer from New England, had her work stolen and edited without her permission endless number of times. She then created a public Facebook album of her "borrowed" photos to initiate the dialogue about this issue, but also out of sheer fun. She got support from the community of shutterbugs who really sympathized with her and even shared their own unfortunate experiences.
Maybe your images got stolen online too, and you don't even know it. The thing is, it can be extremely difficult to get in track of images that are not properly credited. It usually happens authors discover them by accident while surfing the web. A useful tool to use here is Google reverse search image. Also, you can legally protect yourself by reading the copyright law thoroughly, by registering your photos, or placing watermarks on your work. Some even use a savvy trick: they upload low resolution images online, which is a great prevention practice.
Pichit.me Successfully Tilting at Windmills
Of course, it's not just the problem of the aesthetics of PowerPoint presentations, although it's probably the easiest to analyze the issue in this context. The whole "intellectual property" thing seems so messed up at first glance. Is it truly possible to stop online image piracy, especially when it's so common these days that the majority of people think it's no biggie?
Back in 2014, Pichit.me, an innovative Swedish startup, got $3 million investment to expand its crowdsourcing photo market. Their amazing team found a way to establish their business and create a win-win situation, both for the photographers and for those in need of great images.
Pickit makes the sourcing of presentation images easier, faster and more inspiring. Rather than trawling search engines for photos where the original owner never gets credited or paid for their image, Pickit offers a genuine alternative that rewards photographers for their creative efforts.
Henrik Bergqvist, CEO at Pickit
Somewhat like the Don Quixote of the startup world, Pichit.me honorably took a stand for the photographers and digital artists, and yes – they were crazy enough (in the most positive sense) to actually find a way to make it work. They are situated in Visby, a lovely medieval city on the island of the Swedish coast (which fortunately helps me to further justify the attempt of this knight-metaphor).
Co-founders Mathias Björkholm, Henrik Bergqvist and Mattias Brodén wittily told the TechCrunch the main competitors of Pichit.me are "ignorance, Google, and Bing". If you take a look at their business strategy, it's rather clever.
The Pickit wanted to shorten the process of getting the best images you need right where and when you need them – legally. They've teamed up with Microsoft and so Pickit became integrated into Office and Windows 10, enabling you to use its crowdsource images, fair and square, with all the legal credentials. Since 2016, it's available on mobile, too.
So, how did they become so successful?
In addition to noticing a problem that needs to be addressed, they've targeted enterprises, which was a smart move. Businesses have a huge amount of responsibility to deal with, and they cannot afford making such basic mistakes as practicing image piracy. The sometimes vague line of what's legal when it comes to copyright issues online can bring a lot of confusion. This is why companies have real concerns about legal risks, especially when their employees make presentations. So, that's where Pichit.me stepped in and made an offer no one can refuse.
For just $15 per month, CEOs can sleep calmly as their businesses get access to a marketplace with over 1.2 million quality pictures, completely licensed and sourced.
There are several monthly packages with different levels of access one can pay for. On the other hand, photographers who actively contribute to Pichit.me get their fair share, based on how frequently they post and whether or not their images get chosen by the third party. Photo providers get 60% of the profits, which is truly changing the face of the industry. Currently, there are over 10.000 active users on the platform.
This brings more creative freedom for users as there are no more
questionably sourced photos
poorly designed visuals and low quality images one's forced to use
illegal actions (whether deliberate ones or those that occur out of ignorance)
And everybody's happy. Simple as that.
Make the Most of Your Company's Image
If you're a company owner or a startupper, there are a lot of things on your mind. You're pretty much used to handling the times of crisis, but the legal issues regarding the images that are about to be used in the company's presentation on that big conference next week… Now, that's where you probably want to draw the line.
You cannot keep your mind burdened with every single detail.
For businesses, Pichit.me has created a simple image bank solution, enabling you to source, search, and share images. Make your creative director smile by signing up for an enterprise solution with which you will enjoy these amazing benefits:
Personal workflow wizard: with a great user interface, you can arrange photos in folders with great ease, in any way you want
Upload your own photos: in addition to having access to an enormous global image base, you can upload your own pictures and organize them
Boost your creativity and make your presentations come to life: forget about generic images and stylistically poor slides
Easier management: track all of your internal and external images and keep your images up-to-date
More effective collaboration: share images within your team, better the communication regarding the visuals, and keep your creative visual direction on the highest level
Submit a photo request: if you don't find exactly what you're looking for, let Pickit know and they'll provide you (it's the "photo request" option)
Whether we talk about a website, about your company's logo, or the visuals of your presentation – good design is important. It makes your brand memorable and it communicates its status and values.
Passionate About Photography? Here's How to Get Busy
If you have a good eye for photography, you might just cash in your talent with Pickit. It functions as a free trade photo market, focused primarily on Microsoft Office users. As a photographer, you may upload as many photos as you want, free of charge. Each time somebody uses them, you receive your payment, fair and square. In case you want to actually sell your photo exclusively, you cannot resell it, but you do get 100% of the profit. Otherwise, the same photo can be used infinite times by the third parties, and each time it gets used – you get 60% of the profit (as we mentioned before).
Pickit made it possible for us to access a large database of high quality photographs from different destinations and of people doing very different activities, without any costs involved.
Moritz Witter, founder of Nordic Adventours
According to the U.S. Bureau of Labor Statistics' 2016-17 Occupational Outlook Handbook, photographers face a strong competition, while commercial and portrait photography remain high in demand. And it's not just the U.S., if you think about it.
Because photography is a self-taught skill and an affordable hobby – it can easily be turned into business. The techniques can be learned online and through book reading while the sole practice is quite enjoyable and leaves room for experimentation. If you invest your time and effort, it can become your main source of income.
And how do you get there, in this digital world?
Well, of course. By building your online portfolio and showing the world how awesome you are.
There are plenty of platforms (e.g. Behance) where you can upload your work and see what your fellow photographers are doing. But if you are truly committed to developing your own business, you need to have your personal website.
Take Paul David, an awesome photographer from South Africa as a great example. On his website pauldavid.me, he has created a portfolio of his work using a simple yet engaging website design. The site is super easy to navigate: on the homepage, you have switching slides accompanied with savvily chosen quotes. You instantly notice different categories you can explore (e.g. commercial, beauty, food), and on the downbar – you have a total of 11 social media icons, directing you to David's different profiles.
Now, that's called being professional.
A website is an absolute must for anyone who wishes to withstand on the market as a photographer. It's like your digital business card that's constantly available to anyone surfing the web.
You can see that he is omnipresent, which makes you conclude he follows trends and he knows what's going on in the industry. But you wouldn't know that without his personal website, would you? With today's tools and learning online resources, nobody has an excuse for saying "I don't know how to build a website", and it's easier than you think.
A website is an absolute must for anyone who wishes to withstand on the market as a photographer. It's like your digital business card that's constantly available to anyone surfing the web, so you better invest your time into coming up with the best design that will reflect your personality and your sense for business.
It's so easy to fall in love with photography. Everything about capturing memories with camera is beautiful and intimate, so giving your business a personal touch is essential in order to stand out. With .me, you can perfectly display your best work and launch a successful business, by doing what you love.
In the 21st century, not taking advantage of the huge possibilities of the digital era is a sign of still being a bit too green for the entrepreneurial world. Start by checking if your desired domain name is available and snoop around our Domain.me blog to find all the information about building your brand online! Make sure to check Pichit.me too, and try joining as a contributor!